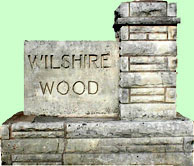 Beautiful Beyond Belief! Appearing in the May 25, 1941 American-Statesman, this announcement marked the opening for sale, lots in the new Wilshire Wood subdivision as a ...neighborhood of wide rambling houses setting far back from the street in the middle of spacious, tree-shaded lawns.
Over the last sixty years, the adjoining neighborhoods, businesses, and streets have changed, but the park-like atmosphere and natural beauty of Wilshire Wood have never faded. Current residents take obvious pride in the ongoing development and maintenance of year-round blooming gardens.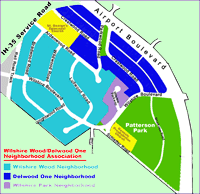 The Delwood neighborhoods--Delwood I, II, and III--were all developed within the ten-year period following World War II, and each one has its own character. The Delwood I subdivision includes a country church, the historic Wright/Giles home, as well as several homes designed and constructed with a special sensitivity to the environmental impacts of living along the "headwaters" of Boggy Creek.